Built for you and the planet
A good design does not make a good machine yet. It should be resistant and reliable and simplify your life at the same time. My innovative bike best meets these requirements.
My motivation
How can you close the gap between car and bike and at the same time, being visible by all road users? How can you move with only muscle power although protected from wind, rain and bike accidents? Velomobiles offer a very valuable alternative to the car. However, they are often built for high speed. Yet they are more rarely seen on our roads for the transport of persons or for shopping. PedaloCab is your loyal friend to meet your everyday requirements. .
About Ben & Fils
Is an individual company with the aim of producing parts made of composite material, CFRP components and, since quite a short time, of Bamboo. Part of it is the PedaloCab electrical bike which combines many innovative ideas.
About me
I am an expert in the field of composite material for the aeronautical sector. As a teenager I have already been fascinated by this material when building the first sailing boat with my brothers. Since then, I work for satellites, rockets, thrust reversers, helicopter structures and aircraft seating. Of course I am never getting tired of working on my boat. Without my team, I would not be where I am today. I love working with peers and to pursue common objectives with passion and competence.
My history
Taking the bike to go to work is a good resolution – but what do I do if the kids need to be driven to kindergarten? On several occasions, I went to my office in perfect weather conditions to end up completely wet when arriving! At the time when winters were (still) frosty - I once fell 15 times on the frozen road! This led me to the idea to build a vehicle capable of ensuring space and protection. Pedalocab was born! J
PedaloCab in action
The former air base of Neubiberg in the outskirts of Munich is a perfect test track for trying driving characteristics. Note the turning radius of only 3 meters!! In the photo gallery, you can follow PedaloCabs manufacturing progress ;)
https://www.youtube.com/watch?v=oAluXFc1CEk
Short test report in april 2021
Folierung, Scheiben-Installation und Montage im 4 Minuten Chrono und 160 BPM...
Foliation, installation of windows in 4 minutes run-off at 160 BPM see video


Which one of these three vehicles has a future ?
You want to be smaller? Do you prefer low tech over switches and complicated commands?
You want to protect your environment, exercise and REALLY have fun driving?
Do the current offers on automobile markets fail to match with your needs and wishes to shape your future as you see it
Do you like to use a safe vehicle that does not depend on weather conditions for your daily trip to work
Then PedaloCab is the right partner for you with its cunning combination of value, performance and practicality!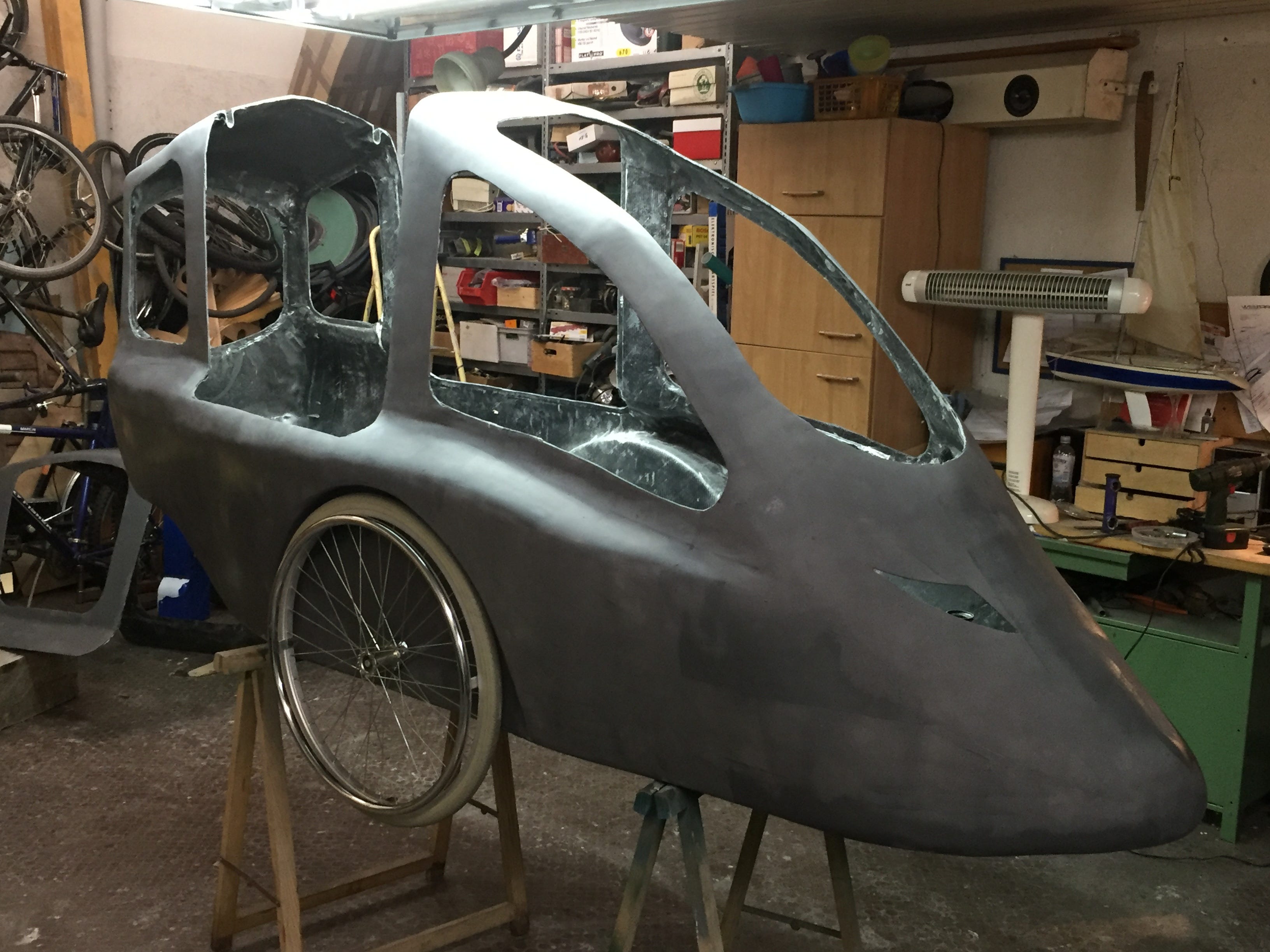 Technical Data pilot production
Technical data PedaloCab pilot production
Fuselage made of bamboo fibers with bio-based epoxy resin (Co2 environmentally friendly alternative to carbon) for passengers between 1,5 and 2 meters, Standard model without colour coating but visible bamboo texture
Motor/switch box with automatic reverse gear, downhill energy recovery and automatic switching in a ratio of 450%
Electrical motor with continual output of 750W, maximum tightening torque 7 Nm, maximum rotation 6000 RPM, gearbox output torque 130 N.m
7-speed manual gear box with helical gears - automatic or manual, hill climb up to 14%
| transmission
1. gear | 1.00
2. gear | 1.32
3. gear | 1.72
4. gear | 2.27
5. gear | 2.86
6. gear | 3.85
7. gear | 4.54
battery 48V, capacity 2047 Wh
maximum (allowed) speed with electrical assistance 25km/h
center axle with a differential
hydraulic disc brakes
weight : 41 Kg in ready-to-use condition
manually operated windshield wipers
turning radius 3 m
200 Liter loading capacity or1 person in the back seat
price :7300 € without taxes or options
pre-reservation : 300€
Options
solar panel on the cockpit for recharging the battery
amphibian version (sealed and operating with paddle wheels)
Hammock for overnight stays in the PedaloCab
Optional color coating or self-adhesive film
GPS tracker
Belt instead of chain transmission